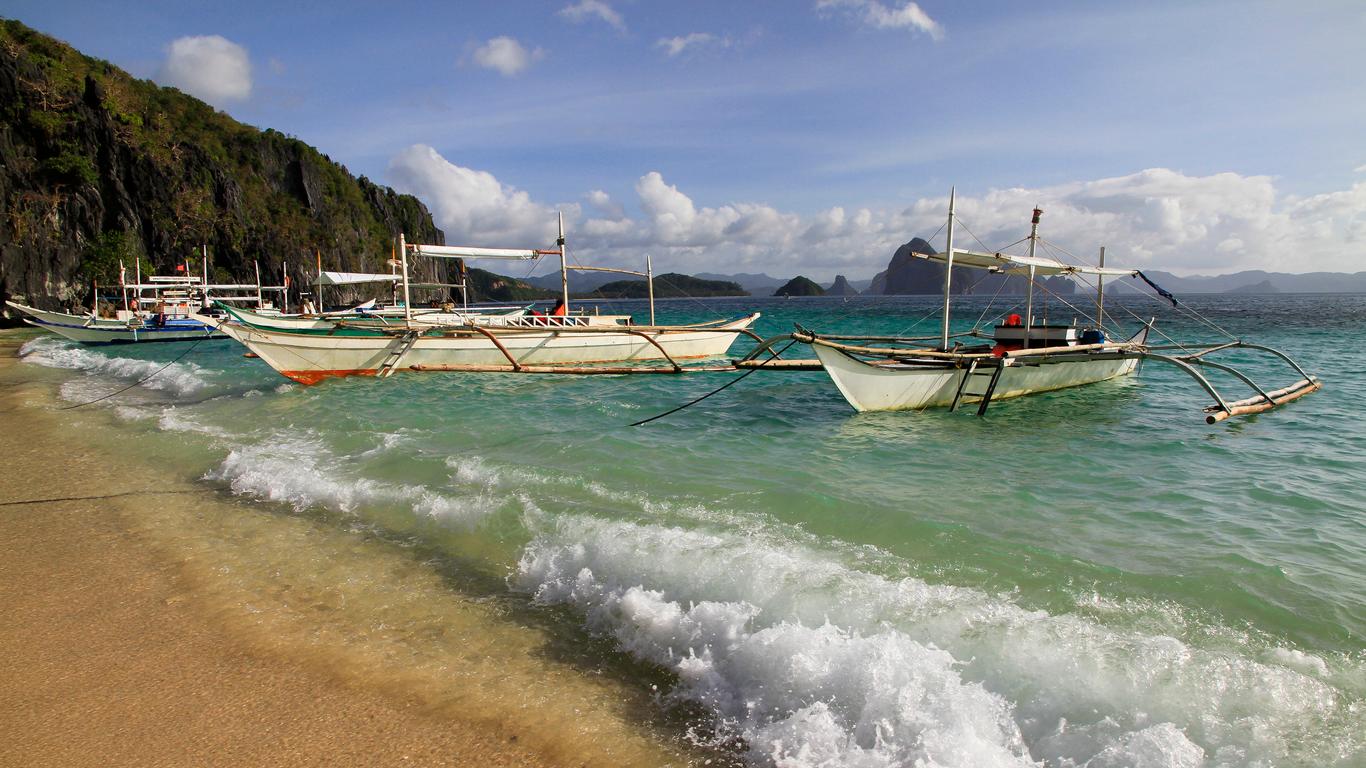 Summary info about the Philippines flight prices, duration and airlines
€340
€693
21h 10m
3 airlines
---
Explore insights for your Philippines flight to craft the best travel plan
What are the most popular cities to visit in Philippines?
Some of the world's most well-travelled cities are in Philippines. The most popular city to travel to in Philippines is Manila, which momondo users choose as their landing destination 71% more often than other cities. The next most popular cities in Philippines are Cebu City and Davao City.
How long is the flight from Ireland to Philippines?
The flight from Ireland to Philippines depends on which airports you're departing from and arriving to, and whether or not you have a layover. If you fly from Dublin (a popular airport in Ireland) to Manila Ninoy Aquino Intl (the most popular airport in Philippines), then the flight time is 19h 05m on average. If you fly from Shannon (another popular airport in Ireland) to Manila Ninoy Aquino Intl, then the average flight time is .
Which airlines fly to Philippines?
There are 7 airlines that fly to Philippines on a routine basis, but Qatar Airways, Etihad Airways and Emirates happen to be the most popular among our users. In the past year, 29% of those who searched for flights to Philippines looked to travel with Qatar Airways, making this airline the top choice among momondo travellers.
---
Click on the cities below to find out when it's cheapest to fly to Philippines from Ireland
---
Get up-to-date answers for some of the most frequently asked questions regarding flying to Philippines
What popular landmarks are in Philippines?

While there are more than just a few landmarks in Philippines, most momondo users find White Beach, Alona Beach, Malapascua Lighthouse, and Solaire Resort and Casino to be the most interesting places to see in the country.
What is the best airport to land at to visit White Beach?

The closest airport to White Beach is Boracay Airport, which is located in Boracay. If you plan on visiting or staying in this area, landing at Boracay Airport will be your best bet.
What is the cheapest flight to Philippines?

The cheapest flights to Philippines recently found by momondo users are €40 with Cebu Pacific, €44 with Philippines AirAsia, and €47 with Philippine Airlines.
What is the most popular airport in Philippines to fly to?

If you're unsure where to fly to in Philippines, we recommend booking a flight that arrives at the popular Manila Ninoy Aquino Intl airport, which services Manila and its surrounding areas. In the last 12 months, 53% of momondo travellers booking flights to Philippines chose to fly into Manila Ninoy Aquino Intl.
What is the best day of the week to fly to Philippines?

Consider booking a flight to Philippines on a Monday, which is the cheapest day of the week. You will also find that flying out on a Tuesday is another low-cost option. Try to avoid booking your flight to Philippines on Friday, which tends to be the most expensive day of the week.
When did momondo last update prices for flights to Philippines?

Prices for flights to Philippines are refreshed on a daily basis.
How many operators does momondo search for flights to Philippines?

As of November 2023, there are 14 operators available to choose from for flights to Philippines.
How old do you have to be to fly to Philippines?

Although the minimum age for a child to fly alone is five, airlines that offer an unaccompanied minor (UMNR) service may have their own age limits, which could be impacted by factors such as flight length, timing, and stopovers. It is recommended that you verify with the airline you are booking with for travel to Philippines.
What documentation or ID do you need to fly to Philippines?

The travel and health documents required for your trip to Philippines can vary based on your itinerary and personal situation. As a rule, consider having multiple documents such as a national ID card or driver's licence, and a passport valid for six-months after you plan to arrive at Philippines. We always recommend checking with your airline or a trusted third party such as IATA to get advice.
---
Find flights to these popular cities in Philippines from your nearest airport.
---
Explore alternative premium cabin options for your flight to Philippines
---
These routes have the cheapest flights to Philippines found by momondo users in Ireland
| Departing | Destination | Best Time | Best Price |
| --- | --- | --- | --- |
| Dublin | Manila | 19h 05m | €692 |
| Cork | Manila | 24h 25m | €712 |
| Dublin | Angeles City | 17h 50m | €757 |
| Dublin | Cebu City | 21h 40m | €888 |
| Dublin | Davao City | 24h 25m | €911 |
| Dublin | Puerto Princesa | 29h 45m | €946 |
| Dublin | Butuan | 38h 10m | €1,147 |
| Dublin | General Santos | 58h 55m | €1,491 |
| Milltown (Kerry) | Manila | 21h 55m | €1,604 |
| Shannon | Angeles City | 62h 20m | €2,031 |
---
Learn about all of the flight booking features offered by momondo for free.
How do I get Price Alerts for flights to Philippines?

Price Alerts will notify you by email when the price for flights to Philippines decreases. To activate this, select your desired travel dates and search for offers. While browsing through offers you'll see the Price Alert widget toggle, click it to turn on notifications.

How can I save money on flights to Philippines with momondo?

Plan your trips smart with the "Price Forecast" feature, which uses flight data to help you pick the best days to fly for the lowest fares. Our "Price Calendar" helps you get the most for your money by showing you when it's most advantageous to fly. Curate your own travel experiences for less with "Explore". Expert travel hacks to fuel your next adventure are a click away with "Discover" by momondo. Set up our "Price Alerts" to track fare changes and book when prices are at their lowest point.

How does momondo find its flight prices?

We compare prices from 700+ competitors to help you find the price that works best for you. momondo operates in over 30 international markets, bringing you access to a wide range of fares and deals. Search for your travel using momondo for a diverse range of options from airlines and OTAs.
---
Why should I use momondo to find a flight deal to Philippines?

momondo compares prices from hundreds of airlines and agents so you can find and book the best deal on flights to Philippines. Millions of users trust and use momondo every year so you are in good company.
Can I find flights to Philippines with flexible booking policies on momondo?

All flight searches to Philippines on momondo can be filtered to show those which offer flexible booking policies.
How can momondo help me find flights to Philippines?

momondo provides multiple filters to help you find the best flight to Philippines. Filter by price, airline, airport, cabin, aircraft, payment method, number of stops and more.
I'm not ready to book a flight to Philippines right now. Can momondo alert me if prices change?

Of course. momondo tracks the price of Philippines flights. All you need is a valid email address and we will do the rest; it is that quick and easy.
---