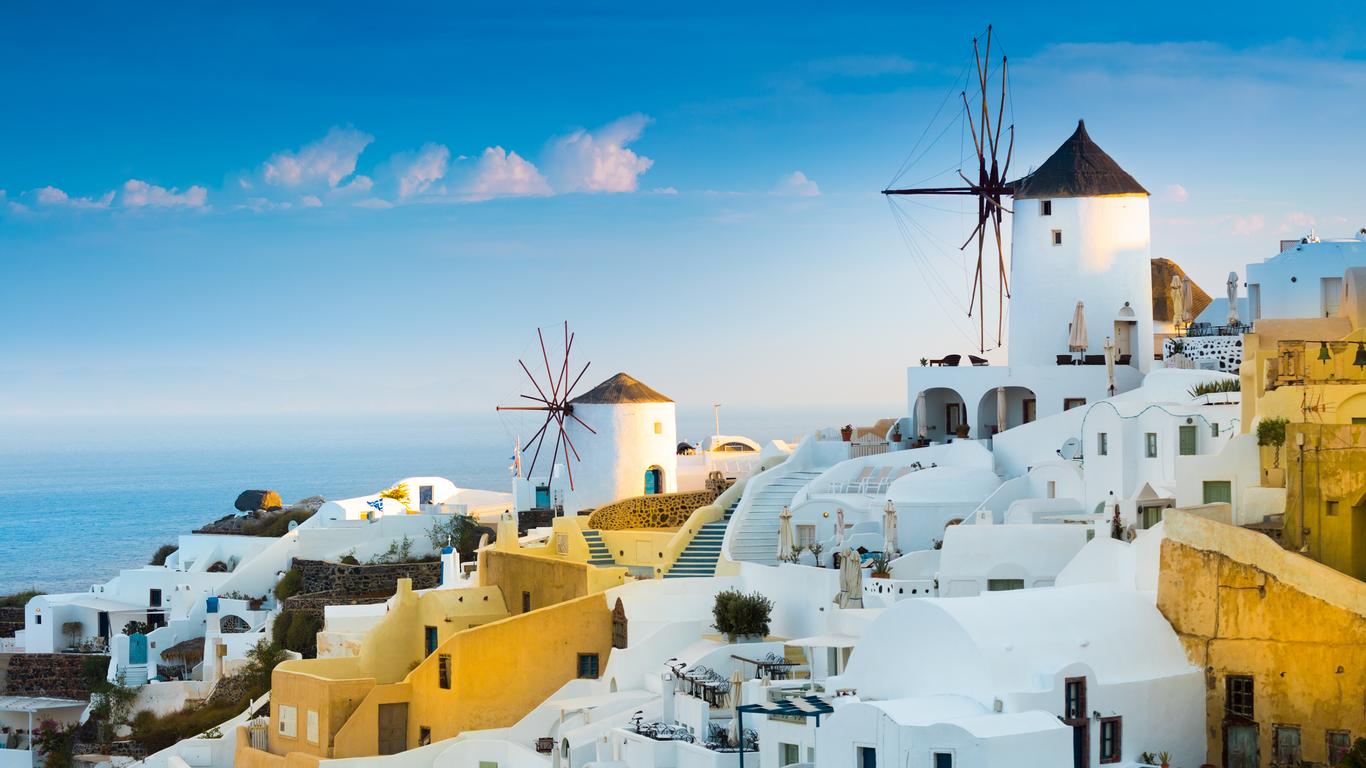 Summary info about Mykonos flight prices, duration and airlines
---
Explore insights for your Mykonos flight to craft the best travel plan
What is the cheapest day to depart on your flight to Mykonos?
According to our data, Tuesday is the cheapest day to fly to Mykonos from Ireland. The lowest ticket price found for a Tuesday departure recently was €529. Keep in mind that prices can always vary depending on your route and whether or not you are flying domestic or international. If your travel schedule is flexible, try to avoid departing on a Monday because tickets tend to average around €565. These prices are subject to change though, so be sure to set up a Price Alert for flights to Mykonos.
What is the cheapest time of day to depart on your flight to Mykonos?
The cheapest time of day to fly to Mykonos is in the evening when flights can be purchased for as low as €364. Flights to Mykonos are more costly in the morning, with an average ticket price of €553. Departure times in the morning fall within the peak daily travel times, which is why tickets can be more expensive.
How long does it take to fly to Mykonos?
On average, it takes 20h 35m to fly from Ireland to Mykonos if you fly out of Dublin (the most popular airport in Ireland) and into Mikonos (the most popular airport in Mykonos). If you're flying out of Shannon and into Mikonos, then the flight time is around .
---
Find the cheapest flights to these Mykonos airports from your nearest city or airport
---
When is the best time to plan a beach trip to Mykonos?

Visitors planning their holidays in Mykonos should book their flights for June, July, or August if they are planning on visiting Paradise Beach.
Is there an alternative airport near Mykonos?

Ermoupoli Syros Island Airport can be an alternative airport used for travel to Mykonos.
When did momondo last update prices for flights to Mikonos Airport?

Prices for flights to Mikonos Airport are refreshed on a daily basis.
How many operators does momondo search for flights to Mikonos Airport?

There are 4 operators available for flights to Mikonos Airport as of December 2023.
How old do you have to be to fly to Mikonos Airport?

Although the minimum age for a child to fly alone is five, airlines that offer an unaccompanied minor (UMNR) service may have their own age limits, which could be impacted by factors such as flight length, timing, and stopovers. It is recommended that you verify with the airline you are booking with for travel to Mikonos Airport.
What documentation or ID do you need to fly to Mikonos Airport?

The necessary travel and health documents for your Mikonos Airport trip may vary depending on your travel plans and individual circumstances. Generally, you should have various documents, such as a national ID card or driver's licence and a passport that is valid for six months beyond your scheduled arrival date. We recommend seeking advice from your airline or a trusted third party, such as IATA.
---
Check out some of the best fares from airports in Ireland to Mykonos found recently by users on momondo
---
If you're looking for one-way flights from Ireland to Mykonos, view some of our deals below provided by British Airways
---
Explore alternative premium cabin options for your flight to Mykonos
---
Why should I use momondo to find a flight deal to Mykonos?

Finding the right flight to Mykonos is quick and easy when you have a range of options in front of you, from reputable agents and recognisable airlines. These options can then be filtered down to find the best fit. That is what momondo does. We make finding flights to Mykonos quick and easy, saving you time and money.
Can I find flights to Mykonos with flexible booking policies on momondo?

Yes. All flights to Mykonos on momondo can be compared and filtered by various policies on offer, including flexible booking.
How can momondo help me find flights to Mykonos?

momondo helps you find the best flight to Mykonos by providing filters to narrow your choice of flights to those matching your criteria. You can select fights based on numerous factors such as price, departure and landing times, airport and airline.
I'm not ready to book a flight to Mykonos right now. Can momondo alert me if prices change?

If you are simply researching potential flights to Mykonos, momondo offers a useful price alert feature which will track prices for flights to Mykonos and alert you when they change.
---