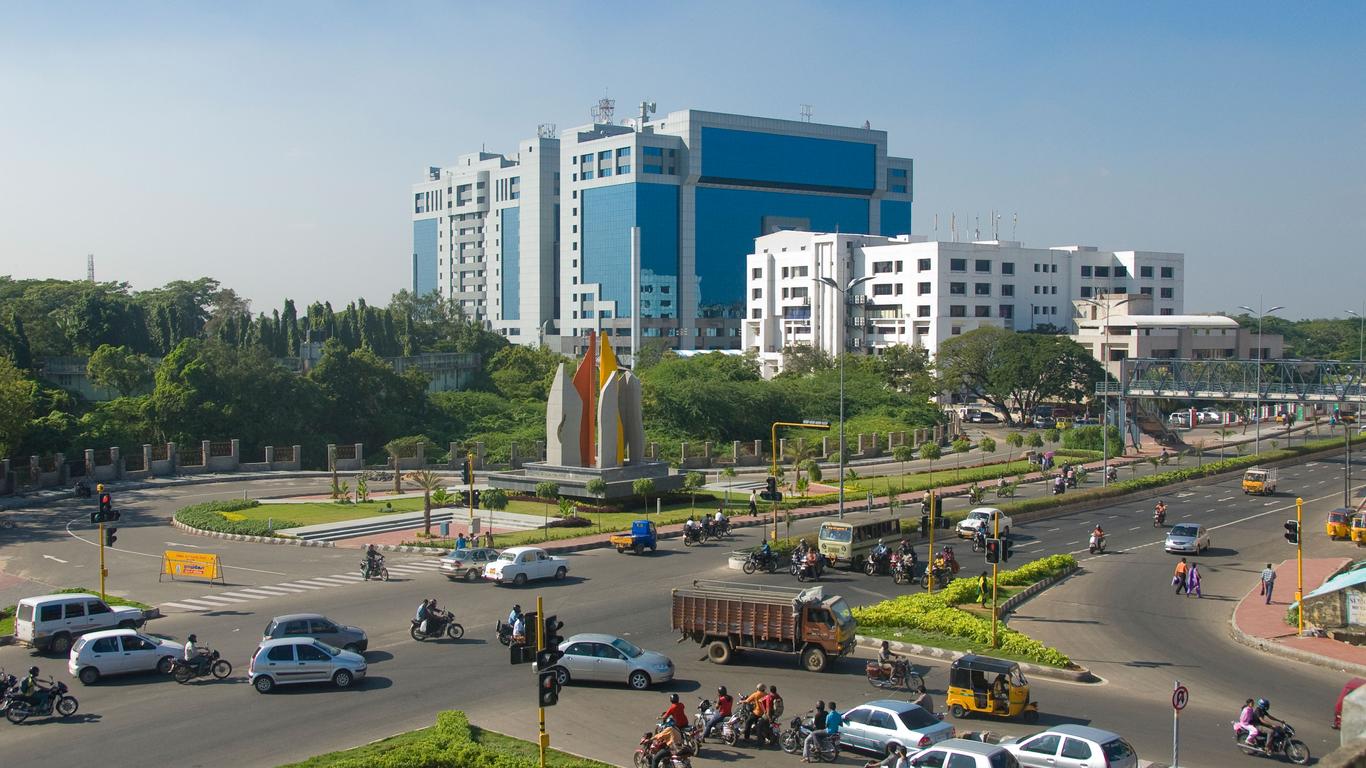 Summary info about Tamil Nadu flight prices, duration and airlines
€197
€588
12h 35m
7 airlines
---
Explore insights for your Tamil Nadu flight to craft the best travel plan
How long is the flight from Ireland to Tamil Nadu?
Flight times vary depending on what airport in Ireland you fly out of and what airport in Tamil Nadu you fly into. For example, flying from Dublin to Chennai takes 17h 05m on average. On the other hand, flying from Shannon to Chennai takes on average. Keep in mind that it's always quicker to opt for a non-stop flight, so be sure to check momondo to see if there are any available for your route.
What is the best day of the week to fly to Tamil Nadu?
Flying to Tamil Nadu on a Sunday or Thursday is your best option since this is when flight prices tend to be at their lowest for the week. The most expensive day of the week to fly to Tamil Nadu is on a Monday.
Which airlines fly to Tamil Nadu?
You can find flights to Tamil Nadu from 7 airlines. If you're unsure which to fly with, consider booking your flight with Etihad Airways, British Airways or IndiGo as these are the most popular among our users. Etihad Airways is the most favoured with 52% of momondo travellers booking flights with this airline.
---
Click on the cities below to find out when it's cheapest to fly to Tamil Nadu from Ireland
---
Get up-to-date answers for some of the most frequently asked questions regarding flying to Tamil Nadu
What is the cheapest flight I can find to Tamil Nadu?

The average flight to Tamil Nadu costs €128/per person and the cheapest flight to Tamil Nadu is €124/per person. This price varies based on a multitude of factors such as departure airport, airline, time of booking and when you plan on travelling.
What is the best airport to fly into to visit Chennai?

Chennai is about 94% more popular to visit than any other city in Tamil Nadu, according to momondo users. When visiting Chennai, it is recommended to fly into Chennai Airport, where you can typically get the cheapest prices and the most convenient travel options into the city.
What is the weather like in Tamil Nadu?

The temperatures in Tamil Nadu range from 25 °C to 33 °C depending on the time of year. The warmest month in Tamil Nadu is May, and the coldest month in Tamil Nadu is January. Those looking for a drier month during their visit should travel during the months of February, February, or February, when rain is least likely compared to the rest of the year.
When did momondo last update prices for flights to Tamil Nadu?

Prices for flights to Tamil Nadu are updated daily.
How many operators does momondo search for flights to Tamil Nadu?

As of November 2023, there are 7 operators available to choose from for flights to Tamil Nadu.
How old do you have to be to fly to Tamil Nadu?

The minimum age a child must be to fly alone is five but airlines that offer an unaccompanied minor (UNMR) service will have their own age restrictions, including rules around flight length, timings, and stopovers. We always recommend checking with the individual airline you are booking with to travel to Tamil Nadu.
What documentation or ID do you need to fly to Tamil Nadu?

The travel and health documents you'll need for your trip to Tamil Nadu may differ based on your itinerary and personal situation. Typically, you should have several documents on hand, such as a national ID card or driver's licence and a passport that is valid for six months after your intended arrival at Tamil Nadu. It is always advisable to seek advice from your airline or a trusted third party, such as IATA.
---
Looking to visit Tamil Nadu? Check out these cities and spend time seeing some of the most popular sights in Tamil Nadu.
---
Find flights to these popular cities in Tamil Nadu from your nearest airport.
---
Explore alternative premium cabin options for your flight to Tamil Nadu
---
These routes have the cheapest flights to Tamil Nadu found by momondo users in Ireland
---
Learn about all of the flight booking features offered by momondo for free.
How do I get Price Alerts for flights to Tamil Nadu?

Search flight deals to Tamil Nadu. While viewing offers, you'll have the option to create a Price Alert.

How can I save money on flights to Tamil Nadu with momondo?

By using tools like our "Price Calendar", you can see the best day to fly round-trip for your travels. Our "Price Forecast" tool uses AI to predict whether you should purchase or hold off on booking for potentially cheaper prices. Explore shows you all flight options from a city or airport to build your own unique adventure. The Discover blog also provides valuable insights for saving money while booking your experience. After searching you can toggle on "Price Alerts" to track prices for your desired flight and book at the ideal moment.

How does momondo find its flight prices?

momondo shows deals across 700+ competitors all at once. momondo is active in 30 international markets, so you can have access to a wide range of options from airlines and OTAs alike.
---
Why should I use momondo to find a flight deal to Tamil Nadu?

We help find the flight that best suits your needs; momondo compares prices from hundreds of airlines and travel agents and helps you filter them to find the best flight for you.
Can I find flights to Tamil Nadu with flexible booking policies on momondo?

Yes. All flights to Tamil Nadu on momondo can be compared and filtered by various policies on offer, including flexible booking.
How can momondo help me find flights to Tamil Nadu?

Once you have performed a search in the form on the page, momondo provides useful filters and insights. We can show you the cheapest days and times to fly as well as filter your options to help you make an informed choice when booking flights to Tamil Nadu.
I'm not ready to book a flight to Tamil Nadu right now. Can momondo alert me if prices change?

If you are not ready to book a flight to Tamil Nadu now, use our insights above to find helpful tips or alternatively set up a price alert; this is where momondo will track prices on flights to Tamil Nadu and let you know when they change.
---